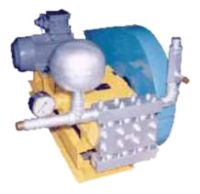 Download Specifications
HIGH PRESSURE PLUNGER PUMPS:
Water-Tech High-pressure (simplex/ duplex / triplex / quadraplex) plunger pump is a positive displacement pump, which can able to deliver high flow stream at high pressure with high efficiency and handle accurate volume of various fluid.

These pump are also known as Boiler Feed Pump , Hydro Test Pump, Pressure Test Pump, Hydrostatic Test pump .
RANGE OF COVERAGE:
Flow range : Up to 30,000 LPH
Pressure range : Upto lOOOKg/cm2
Temperature range : 30 oC to 300 oC
Manufacturing Standard : API -674
MOC : AISI 316, AISI 304, AISI 410, CS, Alloy-20, Hastelloy C & B Titanium, Monel, etc.
Wet End Cartridge : Single / double acting (simplex/ duplex / triplex / Quadraplex, pentaplex) plunger
Valve : Ball, Cone, Plate, Wing with or without spring loaded.
Gland Packing : U seal (PTFE, Chevron, PU) , Square rope.
Options : Pressure relief valve. Pulsation dampner, instrumentation And automation , complete pumping systems
TECHNICAL ADVANTAGE OF WATER-TECH PLUNGER PUMP:
Our liquid end cartridge are crafted from SS forging, it can sustained more than 900-kg/cm2 pressures.
Best quality & Design of each component, Means Long life and less down time
Because of lower speed maintenance is less then other high speed pump and more service life.
Our plunger is ceramic coated with excellent surface finishing, so our gland packing and plunger life is more then other pumps. Ceramic has excellent properties that allow it to be extremely smooth — extending the life of the seals. Ceramic also does not wear. Non-ceramic plungers will wear and reduce the life of the seals. Because of indigenous make pump, spares and services are available all the time. (We are maintaining unique equipment history documentary system) Our connected rod is crafted from Phosphor Bronze material. It can give more life as well as highest lubricity and excellent ware resistance. Nitrided Crank shaft, hence More Life.
Standard hardware Such as Bearing and bolt nut. Hence More life and easy to replace
In general, you pay in the beginning -- by buying quality, or you pay in the end -- by paying higher lifetime maintenance costs for a high pressure triplex plunger pump unit that has a smaller purchase price. However, what hurts more is when a piece of equipment breaks and you lose productivity. Often the opportunity cost of missed deadlines, idle labor, or damaged reputation is higher than the expense of investing in a higher quality piece of equipment.
THE SECRET OF LONG LIFE " TRIPLEX PLUNGER LIFE CHART":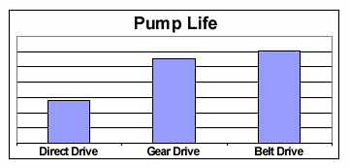 " The pump life chart is a rough way of comparing the average pump life of the different type of pump based upon how much the pump rotate over the life of the system. All other things being equal, the slower the pump rotate, the longer the pump will last due to bearing life and the wear and tear on internal parts."

OPTIONAL ACCESSORIES FOR WATER-TECH PUMPS:

We can supply following accessories with our pump for your convenience.

ITEM SUPPLIED WITH ADDITIONAL COST
HIGH PRESSURE HOSE
PRESSURE SWITCH OR DIFFERENTIAL PRESSURE SWITCH
PRESSURE RECORDER
PRESSURE TRANSDUCER
PLUNGER WITH CERAMIC COATING OR CHROME COLOMONY PLATED
GEAR MOTOR OR GEAR BOX
PUMP WITH CHAIN SPROCKET
DRIVE ( EDDY , V/F D.C )
BASE FRAME WITH DRIP PAN
BASE FRAME WITH LIFTING HOOKS
BASE FRAME WITH RUBBER LINED OR EPOXY COATED
BASE FRAME WITH SHOCK MOUNT
TROLLEY ROLL CARTS
TANK PACK
STROKE COUNTERS - DIGITAL OR MECHANICAL
PUMP CONTROL PANEL
STRAINER - METALLIC OR NON METALLIC
CONSTANT OIL LEVELER
BENJO BOLT SYSTEM
MOTOR CANOPY
PUMP CANOPY
ENGINE OR MOTOR DRIVEN CHOICE
HIGH PRESSURE GLOBE VALVE , BALL VALVE
HGIH PRESSURE PIPE FITTINGS ( FLANGES , ELBOW . NIPPLE



MONO / BARE PUMPS is also available.